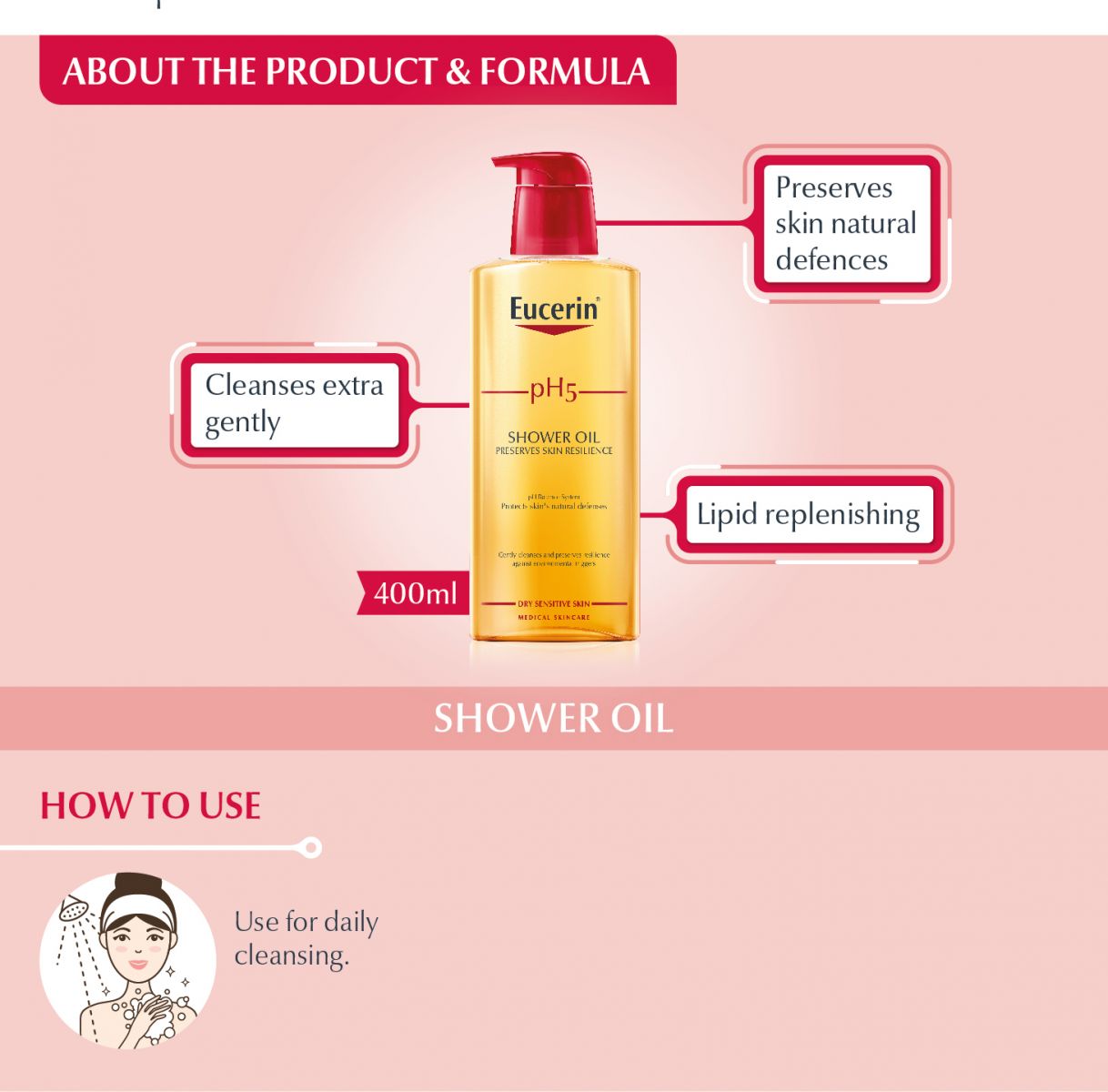 Eucerin pH5 Shower Oil has been developed specifically for the needs of sensitive skin. Its unique combination of pH5 Citrate Buffer and extra mild surfactants protect skin's own enzymes. Intensive lipid replenishing leaves skin feeling pampered and silky soft, and stops it from drying out, even after frequent showering.
FAQ
What is the active principle of the Eucerin pH5 products?
Eucerin pH5 cleansing and moisturizing products contain very mild, dermatologically tested ingredients ideal for sensitive skin and sensitive dry skin. All of these products have excellent skin compatibility and protect your skin against daily environmental stress. The pH5 Citrate Buffers contained in Eucerin pH5 products naturally stabilize the hydrolipid film of skin. Glycerin and Dexpanthenol protect from drying out and support the regeneration of the skin.
What happens when water gets into a bottle of Eucerin pH5 Shower Oil?
Many Eucerin products contain water-soluble or hydrophilic ingredients, as well as lipidic or hydrophobic ingredients. To enable these ingredients to mix with one another and to create a homogenous product, we add emulsifiers or ingredients with emulsifying properties. The composition of this mixture must be precisely balanced. If for example a large amount of water unintentionally gets into the bottle of Eucerin pH5 Shower Oil the homogeneity of the product can be compromised. The additional water can lead to a consistency change in the product. The liquid shower oil is replaced by a gel-like mass that sits on the bottom of the bottle. The watery and gel-like portions seem to separate and you can no longer mix just by shaking. The product will not perform optimally. We suggest keeping it away from the shower spray and please do not add water.
How can you tell if a product is safe for sensitive skin?
Eucerin Sensitive Skin products have been specially developed to combine excellent skin protection and regeneration with clinically proven skin tolerability. However, in general, if you're trying out a new product, apply it repeatedly to skin at the flexure of the elbow. If it does not lead to redness, swelling or itching the product can be assumed to be compatible with your skin.
Talk to your dermatologist or pharmacist if you're worried about any of your symptoms.
What are surfactants, and which ones does Eucerin use?
Surfactants are active cleansing agents, also called active surface or active interface substances. They are organic compounds that influence the molecular adhesion on the contact surfaces of various materials (like skin and dirt particles) by reducing the surface tension to ease the removal of dirt particles, for example.
Eucerin cleansing products contain mild surfactants that demonstrate excellent skin compatibility, documented in comprehensive clinical studies.